I have received a number of emails from you wondering if I felt that ScrapHD is a product that makes sense to those who are not "scrappers". In a nutshell my answer is a resounding --- YES! One of the things I am so very passionate about is not wasting supplies. I am a paper addict and what this program has offered me is an ENORMOUS selection to pick from at a moments notice. I can print the "paper" on cardstock, lightweight paper for transfers, transparencies, sticky back canvas, and so much more. Will I ever give up my paper pads? No, but I most certainly will be using them in conjunction with the elements that I can download and use within a very short time. No more waiting for the package to arrive when I have a last minute project and can't find just the right option, and no more wondering what to do with the paper pads that I don't like a pattern in.
Today I am going to show you how it is that I combined "real" paper from Webster's Pages with a fabulous "printable" design from Jenni Bowlin. So head over to our In Touch blog to read more about the project shown below.
ScrapHD 7-DAY FREE TRIAL CLUB MEMBERSHIP
For those of you who do not subscribe to our newsletter I wanted to be certain to let you know that ScrapHD is currently offering a special promotion! If you have been on the fence about trying out this fantastic program then now is the time to join the Club and experience what the ScrapHD builder has to offer for a 7-day FREE trial. This will allow you to try any of the backgrounds, embellishments and templates AND use the "print from home" service!
To take advantage of this offer simply follow the link below (or the one in the sidebar of our blogs) to subscribe to ScrapHD.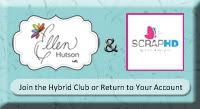 Sign up as a Club Member providing all the information requested. If you are enjoying ScrapHD after your free trial, do nothing --- your credit card will be billed and your membership will automatically continue. If you decide that it is not what you were looking for then you can easily cancel anytime, online, 24 hours a day.
FREE WEBINARS (ONLINE CLASS)
ScrapHD is also offering a free Webinar program (online class). These Webinars last for about an hour and are geared towards the beginner. Ross or Katy (who have been very patient with me as I learned) will walk attendees through creating an account, explain the difference between the Free and Club membership levels, show you how to create a layout and save the project, and more. I would like to strongly encourage those of you who are afraid of trying something new to sign up for one of these classes.
For the month of April they will offer these free Webinars every Monday evening at 8:30pm CST, Thursday evening at 11:59 CST (Midnight Madness - for those of you who are night owls :D), and Saturday morning at 10:30am CST. You can register for all April time slots by going to the following link: FREE WEBINAR SIGNUPS
So head on over to In Touch for some Hybrid inspiration!
Happy Easter to you all!