Thank you for your interest in ScrapHD + Ellen Hutson, LLC. If I was a little more computer savvy this would be a landing page in our webstore, but until I can figure out how to do the coding this will have to suffice. Following are some answers to the most basic questions you might have: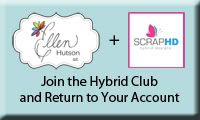 Ellen Hutson, LLC + ScrapHD Link
General
What is ScrapHD?
ScrapHD is a program that is operated independently from Ellen Hutson, LLC. It allows you to create a quick and easy digital scrapbook or card --- then print, share and/or embellish it with your favorite paper craft supplies! ScrapHD's "builder" is simple enough for beginners, yet also has features expert digital users are looking for! There are plenty of free designs to choose from, but become a Club Member for tons of extra benefits and designs from top manufacturers in the industry!
Is ScrapHD owned and operated by Ellen Hutson, LLC?
No, ScrapHD is a limited liability company based in Prospect Heights, Illinois. Scrap HD is completely independent from Ellen Hutson, LLC.
If I have questions regarding the program who do I contact?
To obtain complete and thorough answers it is best to login to ScrapHD's Help Desk. You can click on "Help" from the builder to find this link, or login from ScrapHD.com and choose "Help Desk" from the "My Account" tab. Katy, Ross and Ryan have been incredibly helpful and offer top-notch customer service! We here at Ellen Hutson, LLC will also do our best to help you, but do not have the "behind-the-scenes" understanding of how the program is put together. Please do not hesitate to ask us though and we will do our best to put you in contact with the appropriate individual - [email protected].
How do I get started?
Click on any of the " Ellen Hutson, LLC + ScrapHD Links ." You can visit the ScrapHD tutorials page for complete instructions as well.
What is Hybrid Design?
Hybrid design is the combination of digital and traditional paper crafting and scrapbooking. Visit our store, Ellen Hutson, LLC to pick up supplies to Make it Hybrid! We are your resource for the traditional elements when making it hybrid; ScrapHD is your resource for the digital elements for making it hybrid.
What is the cost of ScrapHD?
ScrapHD offers a Free Membership with limited capabilities and a Club Membership for those that want unlimited access to designs and additional features. We invite you to create a free account and start playing now! The Free Membership remains free for as long as you can resist the temptation to become a Club Member. Club Membership is $9.99/month or$99 a year if you pay upfront (you get 2 months free with an annual commitment.) This fee is paid directly to ScrapHD. 
How do I upgrade from my Free Membership?
Upgrading is simple - just click on any of the Club Membership or Upgrade tabs.
Will my membership automatically renew each month/year?
ScrapHD has set up automatic renewal for both monthly and yearly Club Members. If a member signs up on the 15th day of any given month they can expect to be billed on the 15th of the following month for month to month members or on the 15th day of that same month the following year for annual Club Members.
How do I cancel my subscription?
Logged in users will be able to cancel their subscritpion from the ScrapHD's "My Account" tab at any time. Simply click on the appropriate button labeled "Cancel my Subscription" from this tab. It will then revert back to a payment screen in case you would like to join again at a later date.
How can I tell what is Free vs. Club content?
White frame around thumbnail previews = Free
A grey frame around thumbnail previews = Club Members only
(Club members will have access to everything, so themed pages and all artwork will have a white frame in the preview section.)
How do I access My Account after set-up is complete?
Simply go return to any of our "Join the Club and Return to My Account" buttons and click on the link or go to ScrapHD.com and log in. Logged in users will see the "My Account" button underneath the pink "Create a Scrapbook" button. Click "My Account" and under the "Me" tab you will have access to viewing your saved scrapbooks and download your print from home files, send and receive private messages, create and view your profile page, connect with Facebook so that your FB newsfeed gets updated with your latest ScrapHD activity, or logout. By clicking "My Profile" you will also be able to modify your e-mail notifications to turn e-mails on/off when someone has added you as a friend, or when you receive a message.
How do I build a scrapbook?
Please visit ScrapHD's Tutorials, Forum and Blog for educational tips and tricks. We here at Ellen Hutson, LLC will also be providing education here on our Blogs. Check the Hybrid Design category in both the CLASSroom and here on In Touch for our instructional materials.
How do I share my scrapbooks across the web?
Please visit the ScrapHD Tutorial center for tips and instructions on how to share your scrapbooks across the web. Private scrapbooks may be shared with family and friends by using an invite code. If you publish your scrapbook it will be visible in the ScrapHD community and is eligible to be shared with others by using a Direct Link or an Embed Link located next to the displayed layout. Directly above the published layout will be the "Share This" button, a rotating icon that provides one-click easy sharing via e-mail, blogs, or just about any social network! You can turn your private scrapbook into a published one at anytime, and vice-versa.
Professional Prints
What print options will be available?
Ordering through the ScrapHD print fulfillment center will become available the beginning of April 2010. At that time Hardcover Leather, Custom Hardcover Image Wrap, Custom Softcover Image Wrap, Single Page Prints will become available in 12x12, 8x8 and 5x7 sizes. In addition 5x7 Folded Card with Envelope and 5x7 Flat Card with Envelope will be amongst the selections you can choose from. Stay tuned for updates as we receive word!
Club Members can enjoy "Print from Home" features now.
Can I print on my 8.5x11 printer?
Yes, you can print your 8x8 or 5x7 layouts and cut them down to the appropriate size. You can also resize these images in other programs such as Office Word to customize the size even further.
I do not see the "Print from Home" button. Where do I find it?
Print from Home is available to Club Members only. If you are logged in as a Free Member you will not see the button. Club Members will find the button located next to the "Print" button near the top of the scrapbook builder application.
Where will I find my print from home files?
Once you have initiated a print from home you will see a popup that says ScrapHD will e-mail the high resolution version of your scrapbook to your registered e-mail address. An e-mail will be sent with a direct link to download your print from home pages once the order has had time to process. Additionally, you can locate the print archive of the scrapbook by clicking "Open" in the builder where there will be a brown clickable file folder next to the thumbnail of the scrapbook. You will also be able to locate your print files via "My Account" under the "Me" tab. Click on your scrapbooks and the print file will be available for 90 days. If you wish to print your file after 90 days has expired, feel free to initiate another Print from Home on that file and ScrapHD will send it to you again.
How long does it take for my Print from Home file to become available?
Print from Home times vary depending on how many pages are being processed in the ScrapHD queue. This time ranges from 10 minutes to 24 hours based on demand and peak times. An email notification will be sent once your print from home order has been processed.
What paper do you your recommend for printing files from home?
We offer the ScrapHD photo paper, 12x12 and 8x8 sizes, in our store for those instance when you want a top quality photo paper. We also carry transparencies for both Ink Jet and Laser Printers for unique applications. And don't forget that awesome Neenah Cardstock - it is wonderful for printing your paper elements! 
TIPS AND TECHNIQUES
Save your work frequently.
Enter the contests - it will give you incentive to play and you could possibly win some fun prizes :D
Watch the tutorials and join in a Free Webinar - the learning curve will be so much quicker this way!
Most importantly - have FUN!!