It is so fun to have an excuse to create and babies are the ideal one! It was GREAT fun to create this special little gift card holder. When Maya Road first showed these chipboard pieces I was completely enamored! I know that my own children are well past the board book stage and so to create one was not really something that made sense. BUT a gift card holder - now we're talkin' :-D
I wanted to share a picture of the completed back before you begin a project that is similar. Before beginning it is extremely important to do your math --- when our kids suggest that the things they are learning in school are never used again, you can prove them wrong ;-)
Make certain that the chipboard coaster you are using is large enough to create a pocket to fit your gift card!
This next idea is not my own - it was something I saw on the Maya Road design team blog that got my brain a tickin' - you can see their post here! You really do need to visit their blog for some AMAZING inspiration - you will then see why I am SO very in love with their product line. What the designers do with it is exquisite!!!
I used a pencil to outline my image. I just didn't have the confidence to start with a marker - LOL! I then used my Copic Multiliner to draw over my pencil lines and darken them. Next I scanned the image.
Using Photoshop I cleaned up my scanned image. For those who don't have this knowledge base I do think that you will receive good results doing it the way that the designer on the Maya Road blog did (see link above) but being that I was shooting for precision I just can't leave well enough alone. 
I then turned my black-line drawing into a transparent file. I know that I am losing some of you with this brief explanation, but I wanted to share this for the more advanced users and my continued explanation below.
It was then that I realized that I really didn't have a paper that I found 100% suitable - yes, it had to be baby blue with polka dots - it was what was in my mind and I couldn't let go of it. I then realized that I could really take this to the next level by heading over to my ScrapHD resources! So I did just that!
ScrapHD is designed for making easy and quick scrapbook pages, BUT it is also the most amazing resource for these types of projects. Being an intermediate level Photoshop user I can take the images from my ScrapHD files and incorporate them into my projects on Photoshop! I'm in love with this capability and I know that advanced Photoshop users will have the ability to create amazing projects that blow mine out of the water!
I found this wonderful blue polka dot in the My Mind's Eye collections by putting the words blue polka dot in the ScrapHD search engine - VOILA
With the Club Membership I am sent a file that I was then able to open in Photoshop and layer my little transparent onesie over the top to print a perfect little compliment to my chipboard element! WOOHOO - I was so very excited... aww, perfection - LOL!
I then printed this on Neenah cardstock.
I also printed out the plain polka dot file from ScrapHD onto Neenah cardstock. This was used to create the reverse side. I flipped my chipboard over and traced the onesie - this was my "back side." I traced a second one --- only the lower portion, to create my little "pocket." As you can see I cut just inside my pencil line - this allows for a very nice fit on the backside of the onesie.
I saved my "dimensional" onesie - the first one in the ring for a future project. I plan on painting it and playing with the wonderful embossed detail. Using the second piece on the chipboard ring I gave it a more finished look by edging it with a silver leaf Krylon pen. Be certain to allow the silver leaf to dry before continuing to work or you might have silvery goodness everywhere - LOL!
I stitched the back pocket along the top side and then stitched it to the coordinating piece, so that the gift card could slip between the layers. This little piece just makes me giggle. It is almost like those little drop-down/drawer style P.J.'s - oh so cute!
I selected a coordinating striped paper (My Mind's Eye - Little One) from ScrapHD and scaled it way down so that the pattern would be appropriate for this darling piece. It is yet another reason I am absolutely loving that I have digital files at my fingertips! Cutting and embossing the circle with my Nestability I then left the die in place as I once again used my Copic Multiliner to add my faux stitching.
Using the Hero Arts Precious Baby Boy set (it is the perfect scale for SO many projects and again TOTALLY cute!) I created the little accent pieces, coloring them with coordinating Copic markers.
A little ribbon and a couple of brads completed the look. Babies --- I can still smell my girl's hair even 10 years later! What a blessing to this world they are!
I hope that this spurs you to thinking about other uses for these adorable chipboard coasters! I would love to hear your thoughts and suggestions as to what you would use them for. Have a fabulous evening and thank you for stopping by today.
digital elements: ScrapHD My Mind's Eye Little One Striped Paper and Be Merry Polka Dot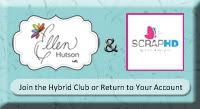 stamps: Hero Arts ClearDesign Precious Baby Boy
inks: Memento Tuxedo Black
paper: Neenah Solar White
accessories: Maya Road Baby Onesie Coaster, Mini Pins