As many of you have already read we are adding a new tool to our creative options - our computers. In January I asked in this blog post what your thoughts were in regards to hybrid design? It was a fairly resounding affirmation that many would like to learn how to use their computers in the creative process. The timing was amazing - I asked the question and then two days later learned about ScrapHD. After spending some time with the Petersen family at CHA and looking at what their product had to offer I signed up to work together with them. I believe that the ease of use of their builder, together with an unmatched assortment of digital elements, that the value and ease of use will make this tool a must have for many crafters. You can read more about why I am excited about this product and answer some of the most frequently asked questions by reading the following two posts:
ScrapHD + Ellen Hutson, LLC = endless creative possibilities
Today I am going to do my best to share with you the ease of using this program and how I incorporated the "digital" aspect together with my traditional paper crafting products. I am also going to share how I created the mini crepe paper roses - they were so much fun to make!
Following are a series of stepped out pictures showing you how simple it is to create using the ScrapHD builder. You will see a new "icon" on the sidebar of all of our blogs - this icon when clicked on, will take you directly to the Ellen Hutson, LLC + ScrapHD builder.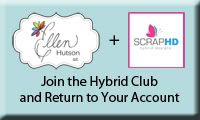 Joining is free and there are some wonderful free options available to try, but I must admit that I was a free member for such a short time that I am uncertain to all that is free. I am now a "Club Member," which costs $9.99/month or $99/year and so when I sign in now everything is ready and waiting for me to explore and experiment with.
CREATING A SCRAPHD PRINT FILE
Each one of the following "tiny" windows can be popped open to reveal an example of the steps involved I followed as I printed my transparency.
Upon signing in you will see that you can start with a blank page or a theme. I selected a blank page. The next window that pops up allows you to select either a 5x7, 8x8 or 12x12 size. For this project I selected the 8x8. (We have already requested they add an 8.5x11 size ;-) It's now just a matter of time as they continue to add to what the program can do :D)
Once the program is open you can hover your cursor over the symbols that are on the left hand side of the page. Each symbol represents a category. Following are the categories from top to bottom:
photos (you add your own photos here)
backgrounds
embellishments
layering papers
frames
text
shapes
I selected backgrounds because I knew that I wanted to keep this lesson simple. Next, select the little + symbol and a whole new world of paper options opens up to you as seen in the second photo.
I used the search mechanism and put in the word Tangerine in doing the write-up for this post because I knew the name of the Jenni Bowlin paper collection I had used and wanted to keep my options down. I can use colors, designers, collection names, elements and more to narrow down my search.
Simply clicking on the paper element I wanted to add puts it into my left column. You can select as many backgrounds to try as you would like. I only selected the one I knew I was going to use.
When you have completed selecting background papers click on done. This will close the selection window.
Then drag the paper from the left tray into the square and drop it in place.
My pattern was now ready and so I then selected the "Print from Home" option. 
An email notification was then sent to me, but I decided to show you how to go to "My Account" and you will find the page under "My Scrapbook." Click on the green download button next to the image. A box will pop up and I select save. 
It is important to keep your computer files organized. I would like to recommend that before you begin that you create a file in your Pictures Directory called ScrapHD. This will allow you to save all of your ScrapHD files in one location and make it easier to find later on. :D
The files are emailed in a zipped format. When the next window pops up simply click open and it will show you a window similar to the first photo above. I select extract all and this unzips the file, giving you easy access to it.
Next I opened Office Word. In word there is an "insert picture" option. When your browser opens simply select your file in your ScrapHD folder and click on the file and then insert.
It is now simple to resize the file - note where my arrow is pointed above. I resized the file to 4". I then printed on to my transparency. This write-up took WAAAY longer than actually completing all of these steps - LOL! It truly is a very easy process!
CREATING CREPE RIBBON ROSES
I have fallen in love with the many paper flowers we are seeing all over the place now. When Michelle Obama wore her first large flower I knew that this would be a trend that would become huge! As an interior designer I worked with a lady that created THE most exquisite silk roses. Using this technique I decided to give it a try with the crepe ribbon we carry in the store (yes, more colors are on their way - LOL!)
Being that I am all thumbs I decided to try using my quilling tool (also known as a slotted tool) to help me keep my flower precise. It worked like a charm! Remember each of these pictures can be clicked on to open in a large view.
Begin by folding the crepe paper over as shown in the first photo above. Then slip the ends between the two prongs on the quilling tool as shown in the second photo.
Wrap a couple of times and then using a toothpick dab a tiny droplet of adhesive at the base of the flower.
The last photo in the series above and the first photo below show the alignment of the paper as you wrap. Fold the ribbon at a 45 degree angle and then keeping the top portion (the portion that is parallel to my finger) even with the top of the rose wrap until this segment of the ribbon is used up. Then make another 45 degree fold, add a droplet of adhesive to the base and wrap again.
Continue to wrap and glue until you reach the end. At the end I apply glue to the tail as well as the base and finish off as shown in the third picture. I then remove my rose from the slotted tool and add adhesive to the base, allowing it to dry thoroughly.
Simply vary the length of your crepe ribbon to vary the size of your rosebud. I apologize for not writing down the lengths of ribbon I used - I thought I would remember. Oops-LOL! I think that the lengths were between 6-12 inches when I began, but can't be certain.
I cut one of the Jenni Bowlin mini papers down to a 3" size and pierced holes through the corners of my transparency and mini paper inserting a brad. The look was completed with some of that gorgeous silk ribbon we carry, some softly Glitter Misted leaves and my three crepe paper roses.
I absolutely LOVE this color combination - Jenni did a fabulous job with this collection and to now have it available in transparency format added just the right twist :D
 
digital element: ScrapHD - Jenni Bowlin Studio, Tangerine Dream Collection-Dream Floral
paper: Ink Jet Transparency, Memory Box Lagoon, Jenni Bowlin Mini Papers-Tangerine Dream
accessories: Jenni Bowlin Turquoise Crepe Paper Ribbon, Mulberry Rose Leaves, Silk Ribbon, Marrakech Brads, Quilling Tool (Slotted Tool), Perfect Paper Adhesive